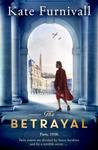 Kate Furnivall - The Betrayal

| Historical Fiction | ePUB/MOBI | 1.35 MB |
Could you kill someone? Someone you love?
Paris, 1938. This is the story of twin sisters divided by fierce loyalties and by a terrible secret. The drums of war are beating and France is poised, ready to fall. One sister is an aviatrix, the other is a socialite and they both have something to prove and something to hide.
Discover a brilliant story of love, danger, courage ... and betrayal.
This epic novel is an unforgettably powerful story of love, loss and the long shadow of war, perfect for readers of Kate Morton and other exceptional historical fiction.
https://tusfiles.com/7om6payz6p8a
https://www.solidfiles.com/v/M2Ygm2L6k25q2