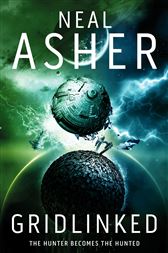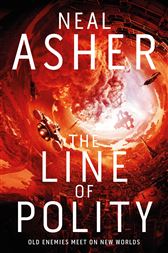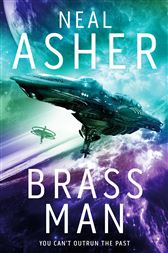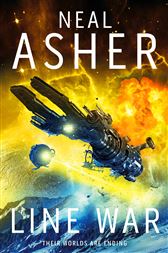 | Science Fiction | .ePub | 6.2 MB |
#1 Gridlinked
The hunter becomes the hunted in Gridlinked, the first sci-fi thriller in Neal Asher's compelling Agent Cormac series.
When a portal to other planets explodes on Samarkand, thousands are killed and a terraforming project is obliterated. Earth Central Security suspects sabotage – and assigns a legendary investigator. But Agent Ian Cormac has his own problems. Years spent mentally linked to the Polity's AI network have eroded his humanity, and this gridlink has to be severed or he'll die. Without it, he has only his wits (and Shuriken, a throwing star with a mind of its own) to rely on.
Cormac's disastrous last mission also haunts him – as a psychopath and a murderous android track him across the galaxy, seeking revenge. Meanwhile, the ice-bound planet of Samarkand hides deadly secrets beneath its surface . . . secrets Cormac is about to disturb.
Gridlinked is followed by The Line of Polity, the second title in the Agent Cormac series.
#2 The Line of Polity
Old enemies meet on new worlds in The Line of Polity, the second novel in Neal Asher's popular Agent Cormac series.
At the frontiers of human-occupied space, the Miranda space station has been utterly destroyed. Earth Central assigns Agent Ian Cormac to discover the truth, because the alien bioconstruct Dragon seems the most likely culprit.
Meanwhile, rebellion is brewing on Masada. The planet's people are enslaved on the surface, living in fear of their overlords in orbit, who punish transgressions with laser strikes. Leaving their compounds also means death, as monstrous predators roam the toxic wilderness. Civil war looms, while a rebel biophysicist brings lethal Jain technology to this world. Agent Cormac must find out what connects these events, if he is to avert catastrophe.
The Line of Polity is followed by Brass Man, the third title in the Agent Cormac series.
#3 Brass Man
No one can outrun the past in Brass Man, is the third novel in Neal Asher's popular Agent Cormac series.
Imperfectly resurrected by Jain technology, Mr Crane is back from the dead. The brass killing machine is haunted by a violent past he can't fully forget or truly remember. He seeks to heal his shattered mind as his new master, an old biophysicist enemy of Agent Cormac, sets him on an improbable mission: to hunt a dragon on the frontier world of Cull.
On Cull, each day is a struggle for survival. Ferocious insectile monsters roam the volatile planet. And the low-tech human settlers are desperate to reach their ancestors' starship – orbiting tantalisingly out of reach. An entity calling itself Dragon assists them, but what are its real motives, and why is the biophysicist really here? Cormac must find the answers, and face multiple threats to the Polity.
Brass Man is followed by Polity Agent, the fourth book in the Agent Cormac series.
#4 Polity Agent
Polity Agent is the fourth novel in Neal Asher's popular Agent Cormac series.
Refugees arrive in the Polity from eight hundred years in Agent Cormac's future. And once they are through, the gate they use is dumped into the sun, as something dangerous and non-human is in pursuit. Cormac soon learns that the Maker civilization they have come from has been destroyed – by alien Jain technology.
Orlandine, an augmented human, is studying this lethal tech in Cormac's timeline. She may manage to harness its power, or it might destroy her. Meanwhile, Cormac is desperate to stamp down on this same technology, but someone or something is spreading it. And just outside humanity's Polity worlds, something very nasty indeed might just be pulling their strings.
Polity Agent is followed by Line War in the action-packed Agent Cormac series.
#5 Line War
Line War is the fifth and final novel in Neal Asher's popular Agent Cormac series.
The human Polity worlds are under attack from Erebus, a renegade AI. And it's now merged with lethal Jain technology, and isn't afraid to use it. When Erebus kills millions, on a world of no apparent significance, Agent Ian Cormac is sent to investigate. He's also secretly struggling with an ability no human should possess – and starts questioning the motives of his AI masters.
Further indiscriminate attacks attract the Polity's most dangerous individuals. Mr Crane, a brass killing machine, seeks vengeance. Orlandine, part AI and part human, hunts a weapon of appalling power. And Dragon plans to wake the makers of Jain technology from their ancient slumber. But can Erebus be stopped – or is this the end for the Polity?
About the Author
Neal Asher was born in Billericay, Essex, and divides his time between here and Crete. His previous full-length novels include Gridlinked, The Skinner, The Line of Polity, Cowl, Brass Man, The Voyage of the Sable Keech, Hilldiggers, Prador Moon, Line War, Shadow of the Scorpion, Orbus and The Technician, The Departure, Zero Point and Jupiter War, and the Transformation trilogy, Dark Intelligence, War Factory and Infinity Engine.
Neal Asher - Agent Cormac.zip - 6.2 MB