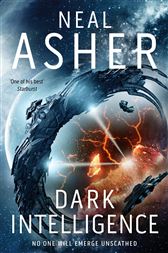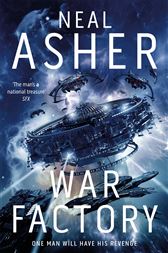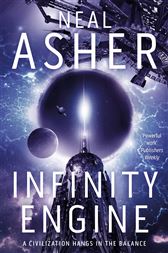 | Science Fiction | .ePub | 3.1 MB |
#1 Dark Intelligence
Dark Intelligence is the first novel in the Transformation series, a no-holds-barred adventure set in Neal Asher's popular Polity universe.
One man will transcend death to seek vengeance. One woman will transform herself to gain power. And no one will emerge unscathed . . .
Thorvald Spear wakes in hospital, where he finds he's been brought back from the dead. What's more, he died in a human vs. alien war which ended a whole century ago. But when he relives his traumatic final moments, he finds the spark to keep on living. That spark is vengeance. Trapped and desperate on a world surrounded by alien Prador forces, Spear had seen a rescue ship arriving. But instead of providing backup, Penny Royal, the AI within the destroyer turned rogue. It annihilated friendly forces in a frenzy of destruction, and, years later, it's still free. Spear vows to track it across worlds and do whatever it takes to bring it down.
Isobel Satomi ran a successful crime syndicate. But after competitors attacked, she needed more power. Yet she got more than she bargained for when she negotiated with Penny Royal. She paid it to turn her part-AI herself, but the upgrades hid a horrifying secret. The Dark AI had triggered a transformation in Isobel that would turn her into a monster, rapidly evolving into something far from human.
Spear hires Isobel to take him to the Penny Royal AI's last known whereabouts. But he cheats her in the process and he becomes a target for her vengeance. And as she is evolves further into a monstrous predator, rage soon wins over reason. Will Spear finish his hunt, before he becomes the hunted?
#2 War Factory
War Factory is the second novel in the Transformation series, a no-holds-barred adventure set in Neal Asher's popular Polity universe.
One seeks judgement, another faces damnation and one man will have his revenge . . .
Thorvald Spear is losing his mind as he drowns in dark memories that aren't his own. Penny Royal, rogue artificial intelligence, has linked Spear with the stored personalities of those it's murdered. And whether the AI seeks redemption or has some more sinister motive, Spear needs to destroy it. He feels the anger of the dead and shares their pain.
As Spear tracks the AI across a hostile starscape, he has company. Sverl, an alien prador, has been warped by Penny Royal and hungers to confront it. But will the AI's pursuers destroy each other or hunt it together? Sverl's prador enemies aren't far behind either. They plan to use his transition to prove human meddling, triggering a devastating new war.
Clues suggest Penny Royal's heading for the defective war factory that made it. So allies and enemies converge, heading for the biggest firestorm that sector of space has ever seen. But will Spear secure vengeance for his unquiet dead?
#3 Infinity Engine
Infinity Engine is the third and final novel in the Transformation series, by bestselling science fiction author Neal Asher, following Dark Intelligence and War Factory.
A man battles for his life, two AIs vie for supremacy and a civilization hangs in the balance . . .
Several forces now pursue rogue artificial intelligence Penny Royal, hungry for revenge or redemption. And the Brockle is the most dangerous of all. This criminal swarm-robot AI has escaped confinement and is upgrading itself, becoming ever more powerful in anticipation of a showdown.
Events also escalate aboard the war factory. Here Thorvald Spear, alien prador, and an assassin drone struggle to stay alive, battling insane AIs and technology gone wild. Then the Weaver arrives - last remnant of a race that died out two million years ago. But what could it contribute to Penny Royal's tortuous plans?
And beyond the war factory a black hole conceals a tantalizing secret which could destroy the Polity. As AIs, humans and prador clash at its boundary, will anything survive their explosive final confrontation?
About the Author
Neal Asher was born in Billericay, Essex, and divides his time between England and Crete. His full-length novels include Gridlinked, The Skinner, The Line of Polity, Cowl, Brass Man, The Voyage of the Sable Keech, Hilldiggers, Prador Moon, Line War, Shadow of the Scorpion, Orbus and The Technician. His Owner series novels include The Departure, Zero Point and Jupiter War.
Neal Asher - Transformation.zip - 3.1 MB